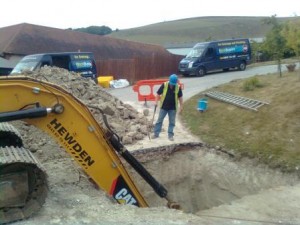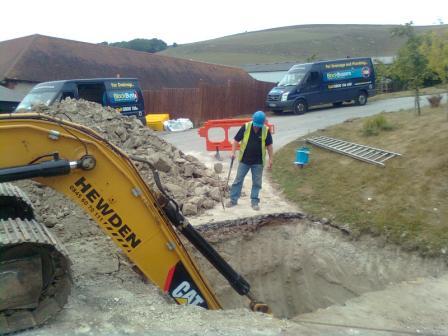 The recent rainfall and flooding at numerous areas across the UK this has caused excessive ground water to be apparent in most people's households. Fortunately the rains and the floods have now stopped and this water is gradually seeping away, however a lot of people have decided that they would like more adequate rainwater soakaway systems installed or their existing soakaway systems upgraded to ensure that when the rain does arrive at least the ground can take away this excess water without it lingering on for weeks/months and causing irreparable damage to their lawns, gardens and driveway.
The modern day soakaway is very different to what used to be installed a few years back where the method was simply excavating a trench and filling it with rubble (normally leftover spoil from the building site) and then covering it over and letting nature do the rest. Nowadays the soakaway system is worked out on the expected amount of rain water it needs to disperse and instead of installing builders rubble, Aquacell units are installed. These can be measured correctly to ensure that an adequate sized soakaway system is installed with minimum effort, in place of the existing soakaway and this minimises the end cost to the customer. On a lot of occasions these systems are covered by the existing policy holder's insurance company but only if the initial claim is handled correctly right from the very beginning. Normally these systems are installed and completed in less than a day and the ground is reinstated to its original condition, with minimum disruption.
Blockbusters provide a free report and quotation with a free insurance mediation service if required to handle the claim correctly, with the only cost being the policy excess if the claim is accepted.
Contact the team