At Blockbusters we often get asked the same questions from our customers, these range from questions about drainage maintenance issues to the average costs for plumbing call outs. This is the first in a series of blogs to answer all those questions…
What causes drains to block up?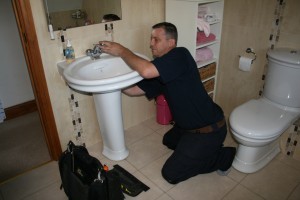 A variety of reasons but the normal reasons are because something has been put down the drain and the drain is not capable of discharging this.  For example, fat or grease when cooking or disposable nappies or similar item or another foreign object i.e. children's toy etc.
These items tend to get caught on the various lips/joints that are within the pipework or any bends on the drain run and consequently end up blocking the drain
What if I am sure that nothing has gone down the drain that shouldn't have?
If it wasn't one of the items as listed previously it may well be that the drains are either clogged up with general silt and debris or tree roots have found a way into the pipework through an open joint.  Tree roots love moisture so if there is an opportunity to get more of that moisture then they will find their way through into the drain run.
What is the best way of unblocking the drain?
Most blockages can be cleared using general rodding equipment but be careful not to damage the pipe run by being over enthusiastic whilst using the rodding equipment.  Otherwise further damage may occur which can be very costly.
If the drain is damaged by something for example, tree roots, will my insurance cover the cost of this?
In most cases yes, your Buildings Insurance should cover the cost of reinstating this pipework back to its original condition, providing the claim is covered and has been handled correctly from beginning to end and provided you claim under the right category
How much does it all cost?
To unblock a drain the cost should be anywhere between £60 and £90 which would cover at the very least one hour's labour and include all plant and equipment.  Be careful of companies that charge by shorter periods of time i.e. 15 or 30 minutes as invariably it can run on longer than this so you end up paying double or they charge 'extra' for the plant and equipment or extra for additional staff on site.
What if I need a repair on the drain, how much will this cost?
Drainage repairs can run into many hundreds or thousands of pounds which is why in most cases most people would want to use their Buildings Insurance.  These jobs should all be priced on an individual basis dependent on the job required.
Blockbusters provide fully insured guaranteed drain services and we have been operating for over 25 years in this industry.  'Which' has recently accredited us amongst numerous other organisations over the years.
We provide competitive drain unblocking services and carry out any necessary repairs to comply with insurance requirements.  We also provide a free of charge claims management service.  We deal with the claim from beginning to end and we have a high success rate of getting those claims agreed for the customer as they are dealt with professionally and accurately all the way through. Please call us on 0800 0689282.
Celebrating 25 years of providing Great Customer Service
Contact the team