For blocked drains or emergency plumbing in Brighton and Hove, BN1 and surrounding areas, BlockBusters can flush out the problem: 01273 936610 or 0800 136 658
Efficient and Affordable Drainage Contractors in South London
If you're in need of reliable, experienced drainage contractors in South London to offer you everything from quick and simple drain unblocking services to expertly performed drain repair or replacement work, BlockBusters can help.
We're ready and waiting to provide plumbing and drainage across the South East, including the south side of the capital, so you'll never have to worry about being out of reach of the budget-friendly drain servicing you need.
Our services even come with a fantastic range of benefits that you can use when you come to us for help:
Advice and expertise from a team with over 30 years' experience
Help and support 24 hours a day, 7 days a week
Emergency services for any drain problem, from blocked drains to cracked or collapsed pipes
No call-out charges or fees on quotes
Our team can arrive whenever you need to make sure your drainage system is restored to its normal flow, and we'll do everything we can to make sure our work stays at a price that's good for you.
Get in touch for help from drainage contractors today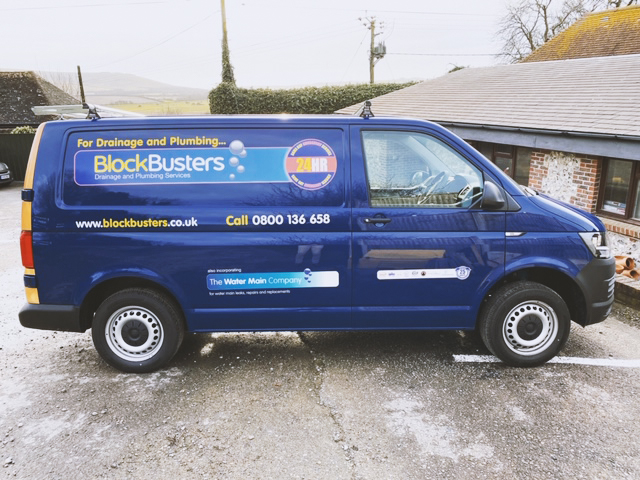 Our Services as Drainage Contractors in South London
As a professional plumbing and drainage company, we're able to offer our customers a wide range of services for their South London drainage systems:
Drain cleaning and drain clearance
Drain repairs and relining
Routine maintenance for commercial properties
CCTV drain surveys (house surveys and drain mapping)
Drain installations
Kitchen sink fittings and repairs
Shower fittings and repairs
Services for septic tanks and other private systems
Drain insurance mediation
We'll also carry out drain surveys to diagnose problems if the issue is too far along your pipes to see what the cause is. This is the cleanest, least intrusive way of taking a look at the inside of your drains and getting an accurate idea of what the problem may be. It also means we won't have to excavate the pipes.
All CCTV drain surveys are carried out using a winch and cable with attached camera equipment, which will be lowered into your drains to get the footage needed. From this, we'll be able to tell if you've got blocked drains, a crack in a pipe that will need repair work, or even if there is something else going on that needs specialist attention.
Get in Touch for Expert Drainage Solutions
If you're in need of fast, efficient drainage services for any commercial or domestic property in South London, get in touch with BlockBusters today. Our team can be with you at any time of day or night to carry out the cleaning and clearance or repair work you need to get your drains flowing again, and we'll do everything we can to make sure your property is restored to normal in no time.
Whether it's a blocked toilet at the root of your issues, wear and tear causing cracks in your pipes, or even something else entirely, we'll have the tools and skills needed to set it right again. Don't wait, worry, and hesitate over whether or not your problem will get better on its own; our team can take care of it right away.
FAQs
Do I need a plumber or a drainage contractor to look at my property?
That all depends on what the problem is, as plumbing and drainage services are not entirely the same thing. Drainage refers to all of the water that is flowing out of your property (wastewater from sinks, toilets, baths, and showers), while plumbing is all of the water that is coming into your property through the supply pipe (clean water that ends up in your taps).
If the problem is based around pipes that will take used water away from your home or business, then you'll need a drainage engineer. If your problem involves pipes holding clean water, then you'll need a plumber. At BlockBusters, we're proud to offer both services to our customers, so you'll never have to worry about whether or not we're the right people to call.
Am I responsible for broken, blocked, or burst water mains?
You'll only be responsible for making sure a pipe or drain gets repaired if the problem is located within your property boundary. Because water mains fall outside of this and are normally located under the main road, you won't be responsible for paying a drainage contractor to get it fixed. This job falls on your local water company, and it's easy to find out which company you're with online.
If there is a problem of any kind with your water main, you'll need to report it to your local water company as soon as possible. All of them have an easy system for this on their websites, so you should be able to tell them what's going on with your mains in a matter of minutes.
Contact the team