For blocked drains in Seaford, come to Blockbusters.
Swift Solutions to Blocked Drains in Seaford
Are you having problems with blocked drains in Seaford and don't know what the problem is? BlockBusters can send licenced drainage engineers to your property to inspect and provide drain clearance solutions for your blocked drains in Seaford. We service both domestic and residential properties and come equipped to deal with any type of blockage.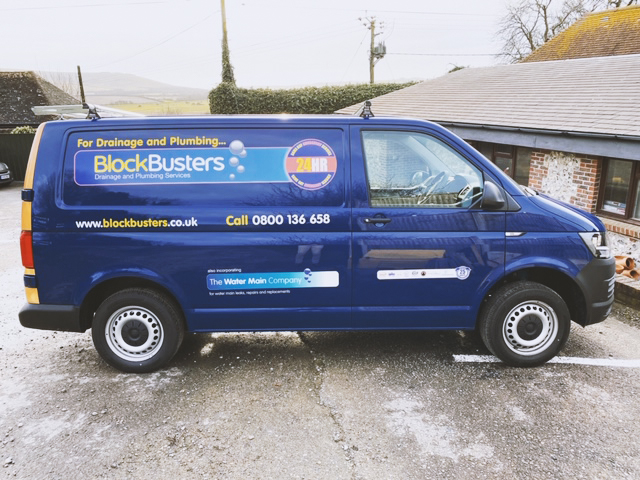 Some of the methods we use to unblock drains in Seaford and East Sussex include:
High-pressure drain jetting
Wet vac (suction)
Chemical cleaners
Deep plunging
Drain rodding and snaking
Our blocked drains solutions in Seaford are designed to be swift and minimally invasive to ensure minimal disruption to your day. If your blocked system problem is an emergency, we can have an engineer out to your property in Seaford the very same day.
Below we will talk about some of the common reasons you will experience blocked drains in Seaford and how experience and expertise will provide a fast and permanent solution. For all drainage issues, get in touch below.
Our Core Blocked Drain Services in East Sussex
We use a variety of trusted methods to get your drains unblocked and back up and running on the same day.
Identifying the Cause of the Blockage
If we need to determine the cause of the blockage, we can use CCTV drain surveying. This involves placing a thin, wire-like camera down your drain, pushing it along until we discover the blockage. From here, we can use a range of unblocking methods to dislodge the blockage to get your drains flowing again.
Drain Cleaning
As the name suggests, drain cleaning looks at cleaning and clearing your drain of any potential blockages to restore a smooth, natural flow to your pipes. We use a number of methods to ensure a thorough cleanse, which may include one or more of the following:
Drain jetting
Drain snaking or rodding
Wet-vacuuming (a suction pump to remove clogged hair, soap suds and grime)
Plunging (when necessary)
Chemical cleaners
If you have already attempted plunging to no effect, do not continue with this method, as it may force the blockage further down the pipe and make the problem worse.
Drain Repairs
Blockages can cause a number of problems to pipes and drainage systems, which can lead to drains needing repairs. We may find that the blockage in your pipes is too big or stubborn to dislodge or may have ruptured the pipe. In this scenario, we may need to replace a section of the pipe or replace the whole pipe. This provides a permanent solution for the affected pipework, allowing your drains to flow normally again.
Tree root ingress is one of the most common reasons customers require drain repairs. Tree roots, when they grow into pipelines, can rupture them, causing leaks. These leaks can also end up costing you a small fortune in water and heating bills. This is a problem you want to address immediately to ensure you aren't paying for water that barely reaches your appliances.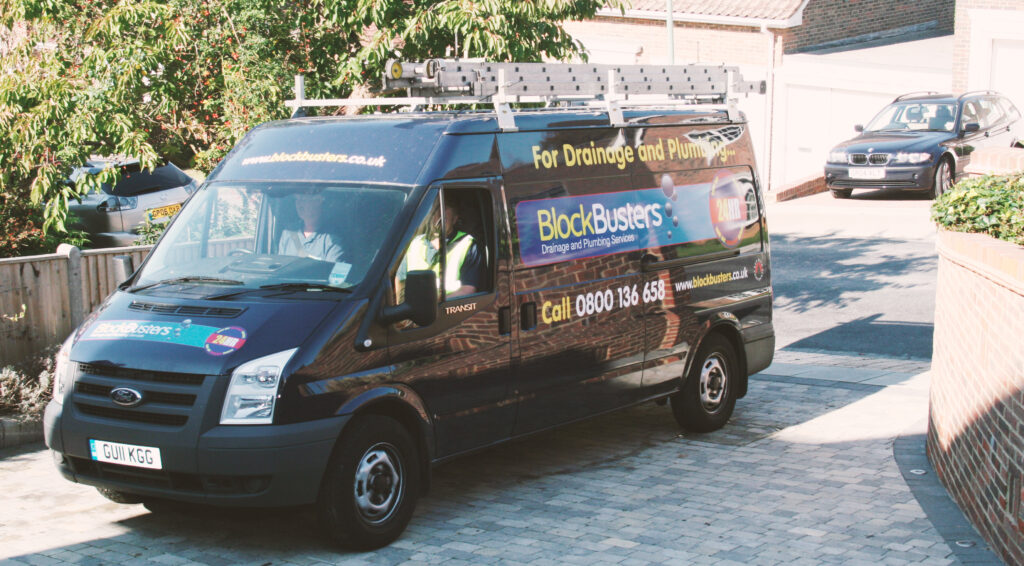 Why Does My Drain Keep Getting Blocked?
If you find yourself constantly having to unblock your drains or you have a blockage that seemingly won't go away, there may be a few reasons for this. The first is that your septic tank may be full and in need of emptying (this is apparent if all appliances are slow to drain or block easily).
The other reason may be that the drain was not properly cleared last time and the blockage has returned. In this case, we can send an engineer equipped with a CCTV drain camera to identify what's going on in your pipes and provide a permanent clearance solution on the same day.
Septic Tank Emptying
If you notice all your household appliances (sinks, baths, showers and toilets) are slow to drain, it's unlikely there's a blockage in each of these. What's more likely, is that your septic tank is full or has suffered a blockage, which can cause your drains to fill up quickly and drain slower.
Our engineers can take a look at your septic tank and make sure everything is in working order before we empty it. The emptying process typically takes anywhere between 30 minutes to an hour depending on size and any problems encountered.
Once your tank has been emptied by our engineers, we will transport it safely to a licensed facility to ensure no damage is caused to the environment.
For Fast & Affordable Drain Unblocking in Seaford, Call Now
BlockBusters provides swift and cost-effective blocked drains solutions in both Seaford and across other areas across East Sussex. We will send a licensed drainage engineer equipped to handle any blocked drain issues in Seaford, whether it's a blocked toilet at home or a larger drainage problem in a commercial setting.
Some of the benefits you will receive from our drain unblocking service in Seaford include:
Access to a team with over 30 years of drainage experience
No call out charges
Knowledgeable personnel who can solve problems quickly and find the best fixes
Contact us today for blocked drains services in Seaford and East Sussex
Contact the team
Almost 100%
of estimates
are accurate
Established
for over
30 years
Contact the team
We don't often think about the drains in and around our homes until they become blocked and we need drain clearance services. Unfortunately, when we do have blocked drains the first time we think about our drains is in a potential emergency situation, with waste water backing up into our home or garden. Luckily we have a team of emergency plumbers on standby and ready to help.
We know that plumbing and drainage issues always happen at the most inconvenient time – mainly because there is no convenient time to have blocked drains! Our emergency 24-hour callout is only ever a phone call away and our local team of emergency plumbers will be on hand quickly to help with drain clearance and drain repairs.
We provide free, no obligation quotes for work, and pride ourselves on our estimates being correct in 99% of cases. We won't sting you with hidden charges and will always be transparent and honest in our work and charging structure.
For blocked drains in Seaford, call Blockbusters today on 0800 068 9282