For blocked drains in Haywards Heath, come to Blockbusters.
Blocked Drains in Haywards Heath? Effective Drain Clearance Services by Experts
Here at Blockbusters, our drain repair engineers have over 30 years of industry experience; meaning they have the expert knowledge to resolve your drain problems in the fastest, least invasive, and most affordable ways. We always provide the highest quality of workmanship, and our comprehensive range of services ensures that your drain repair needs are taken care of properly.
If you're experiencing a drainage disaster in the middle of the night, or you've got a burst pipe that simply cannot wait around for an appointment slot, our fantastic emergency services are available 24 hours a day, 7 days a week. So even when something happens in the dead of the night, you know your problems will be taken care of with efficiency and professionalism.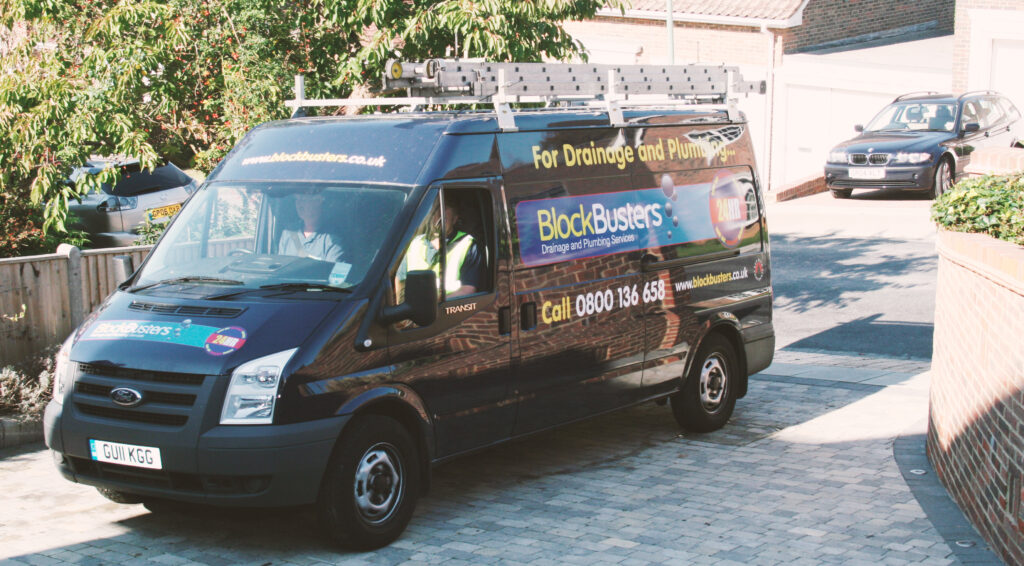 You can expect the following from our drainage services in Haywards Heath:
Drainage engineers and repair experts with over 30 years of experience in the drainage industry.
Round the clock emergency support: available 24 hours a day, 7 days a week, 365 days a year.
Calling us out won't incur any charges, even in the middle of the night.
We always arrive on the scene fully equipped to deal with stubborn blockages and extensive repair jobs.
Whether you've got a blocked sink that keeps backing up waste, a blocked toilet that is overflowing with every flush, or something more severe is occurring deep within your drainage system, we can help.
Got blocked drains in Haywards Heath?
Get in touch with Blockbusters today.
What'll Happen If You Don't Clear Blocked Drains in Haywards Heath?
If you're suffering from blocked drains in Haywards Heath, not resolving the problem as soon as possible is one of the worst things you can do. These kinds of problems can only get worse over time, eventually leading to more problems that will cost more money to fix further down the line.
If you do attempt to unblock the drain yourself, either with the use of commercial drain cleaner or with DIY drainage tools, and the blockage does not budge; we highly recommend not messing with the blockage further and calling the experts at Blockbusters. Not only can too much drain cleaner damage your drains but if you fiddle with the inner workings of your drainage system too much; you could make the problem worse or injure yourself.
Instead of taking potential risks, our experts are fully trained in all types of drain unblocking techniques, even if the blockage is far more stubborn than usual. Get in touch with Blockbusters today.
Services to Remedy Blocked Drains in Haywards Heath
The specialist drainage engineers at Blockbusters are all fully trained in the use of state-of-the-art drain unblocking equipment. With this, we can identify the problems within your drains, remove debris, and even excavate and replace entire pipes in a minimally invasive way. These solutions include:
CCTV Drain Surveys
With the use of high-tech equipment, the need to excavate your drain pipes to diagnose the problem is no longer necessary unless a pipe needs to be repaired or replaced. With the use of CCTV cameras, we can trail a small, flexible, camera through your drainage system in order to view the inside of your drains on a live feed. This will allow us to literally see what the problem is, and figure out what the best course of action is from there. These surveys can be used for:
Identifying what could be causing the drain issues
House pre-purchase surveys
Build-over drain surveys
Commercial drain surveys
High-Pressure Drain Jetting
If you have a blockage within your drainage system that simply won't budge no matter how much drain unblocker you use, we can utilise our high-pressure water jets to blast the blockage to pieces and force it down into the sewer system where it won't cause any further damage.
Please do not try using commercially available water jets, as these are too weak to break these substantial blockages into pieces.
Drain Repairs
Rather than digging up the entire drain pipe to repair a small section, we can re-line the pipe where the breakage has occurred – allowing for a durable repair job that doesn't cost the world.
Other services include:
Tree root cutting from ingressed roots
Full excavation for the replacement of severely damaged pipes
Repairing displaced and disjointed pipes
Contact Blockbusters Today to Repair Blocked Drains in Haywards Heath
We know that having a blocked drain in Haywards Heath can cause high levels of stress and inconvenience in your daily life, and they often happen at the most annoying of times. Too much waste has gone down your kitchen sink during the washing up, and now the water won't drain away? Have your plumbing fixtures sprung a leak and are now causing a huge mess in the middle of the night?
Don't worry, our emergency services are available 24 hours a day, 7 days a week, 365 days a year; so if you find that you're having a nightmare with one of your appliances, get in touch with Blockbusters today.
Contact the team
Almost 100%
of estimates
are accurate
Established
for over
30 years
Contact the team
We don't often think about the drains in and around our homes until they become blocked and we need drain clearance services. Unfortunately, when we do have blocked drains the first time we think about our drains is in a potential emergency situation, with waste water backing up into our home or garden. Luckily we have a team of emergency plumbers on standby and ready to help.
We know that plumbing and drainage issues always happen at the most inconvenient time – mainly because there is no convenient time to have blocked drains! Our emergency 24-hour callout is only ever a phone call away and our local team of emergency plumbers will be on hand quickly to help with drain clearance and drain repairs.
We provide free, no obligation quotes for work, and pride ourselves on our estimates being correct in 99% of cases. We won't sting you with hidden charges and will always be transparent and honest in our work and charging structure.
For blocked drains in Haywards Heath, call Blockbusters today on 0800 068 9282