For blocked drains or emergency plumbing in East Sussex and surrounding areas, BlockBusters can flush out the problem: 01273 936610 or 0800 136 658
Blocked Drains East Sussex – Fast & Affordable Unblocking
Blockbusters offer expert blocked drain service in East Sussex that guarantees fast repairs to ensure your drainage systems get back up and running. Our experienced team are able to attend to any problem within the area of East Sussex and solve the blocked drain problem on site. Blockbusters engineers come equipped with all the necessary tools and equipment to ensure a swift and non-invasive solution.
Whether you're looking for drain jetting to dismantle stubborn blockages in your pipelines or you have a blocked toilet that can't be fixed with a plunger, our team is here to help.
Some of the benefits you will receive from our drain unblocking service in East Sussex include:
Access to a team with over 30 years of drainage experience
24/7 emergency support, 7 days a week
No call out charges
Knowledgeable personnel who can solve problems quickly and find the best fixes
If your blocked system problem is an emergency, we can have an engineer out to your property in East Sussex the very same day.
Call us now or get in touch with us if you have any questions.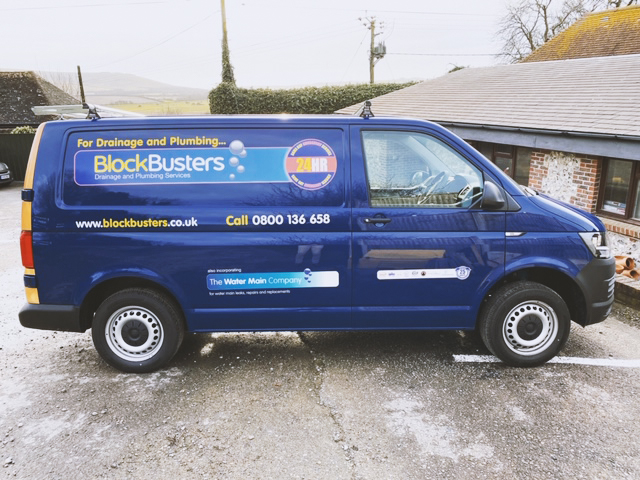 Our Core Blocked Drain Services in East Sussex
We offer all drain unblocking services in East Sussex, the most common being:
Drain Unblocking in East Sussex
As described above, drains can become blocked for a number of reasons and can become very difficult to fix if you don't know what's caused it or where the blockage is located. Our engineers are able to use CCTV drain surveys to locate the blockages and from here, we will discuss the best way to unblock your drains. Whether you have a blocked toilet, sink, shower or anywhere in your home or commercial space, we will be able to provide an onsite solution.
Septic Tank Emptying
Your septic tank should be cleaned once every 12 months to ensure everything is running normally and emptied every 3 – 5 years. This service involves sending one of our engineers to professionally empty your septic tank. You should never attempt to do this yourself as it can be very dangerous and extremely unhygienic. How long the service takes depends on the size of your tank and the number of people living in your property.
Once your tank has been emptied by our engineers, we will transport it safely to a licensed facility to ensure no damage is caused to the environment.
Drain Cleaning
We use a number of techniques to ensure your drains are left cleaned and cleared to alleviate the risk of further blockages. We may suggest drain jetting for more stubborn blockages (such as tree roots or severe fat, oil and/or grease buildups), or chemical cleaners for hard-to-reach areas.
Drain Repairs
It's not uncommon for your drains to become damaged over time for a number of reasons. Maybe your home or commercial property is still running off copper pipes which can wear down over time? A blockage may have caused a burst that is now leaking in your home, or your system has become damaged by bad weather or tree ingress. Whatever the reason for your damaged drains, we are able to locate the issue and provide a swift solution. We use CCTV drain surveys to locate problems and from here, we're able to decide which solution is most appropriate for what we've discovered.
CCTV Drain Surveys
CCTV drain surveys are a great way to see into your drains without having to dig. The majority of your drainage pipes are underground, and if there's a leak or a blockage it can be tricky to know where to start. With a CCTV drain survey, we use a winch and cable on a reel with CCTV equipment, which allows us to inspect every inch of your drains.
Contact us today for blocked drains services in East Sussex
FAQs
Why does my drain keep getting blocked?
A recurrent drain blockage may be caused by a partial blockage that has not been fully cleared. If you have tried using a chemical unblocker you may have cleared enough of the blockage to allow water to pass through the pipe. However, the remnants of the blockage have probably remained stuck to the edges of the pipe. The next time anything that is not water goes down the pipe, it gets stuck to the particles, and soon enough the blockage has built up again.
If a blockage is cleared completely the first time around, it is much less likely to recur.
How can I get my drains unblocked?
We provide emergency and scheduled drain clearance across East Sussex and the South Coast. We are always on hand to help with your drainage problems, large or small.
There is never a good time for a drain to become blocked; it can be smelly and without quick action can soon lead to flooding of dirty, smelly water over your property. We understand the urgency of the situation and our local drainage experts can be with you quickly to get your drains unblocked. All of our work is guaranteed, giving you that extra peace of mind of a job well done.
Who is responsible for blocked drains?
The drains within the boundary of your property are your responsibility, which can sound daunting. Most of us don't even think about the drains on our property until something goes wrong with them. With all those pipes it can be hard to figure out where a blockage is, much less to do something about it. Luckily we can conduct a full CCTV drain survey which will help us to accurately locate and diagnose any blockages – but also any leaks and even cracks that may become major leaks in the future.
Contact the team
Towns covered by East Sussex area