Specialist Cleaning Services and Septic Tank Installations in Croydon
It is important to ensure that any new private drainage system installed on your property meets regulations and is installed in a way which ensures the property's drainage flows correctly. So, if you need a septic tank installation in Croydon to serve a rural property off the main sewer line, BlockBusters is here to help you do it.
Our decades of experience and extensive expertise in all matters related to drainage mean that we are able to provide a range of the most efficient, cost-effective services for septic tanks. Whether you simply need a new tank, or want regular cleaning and maintenance services, our team will be ready to provide what you are looking for.
We offer all of our services at competitive prices; all you need to do is get in touch with our team, who work across all of the South East.
Free Upgrades for Septic Tanks
"
Problem with your septic tank? Get it upgraded to a sewage treatment system – all for free! It's covered by insurers and can save you thousands, so contact us to find out more. Our Septic Tank Services in Croydon
Our experienced team are fully prepared to carry out a range of specialist septic tank services in Croydon, using minimally-invasive techniques to clean, maintain, and install systems in a way which suits your needs and the needs of your property best. When you call on us for septic tank services, you will find that we provide:
Septic tank cleaning and emptying services
Repair and maintenance services
Surveys and inspections
New and replacement installations
Whether your tank is based on a commercial or domestic property in Croydon, we will be ready to help provide the services it needs. As part of paying your site a visit and carrying out an inspection, we will also be able to further explain the process and make bespoke recommendations for your tank.
We offer free call-outs, so you will never be charged simply because you require our assistance.
Who is Responsible for a Septic Tank System?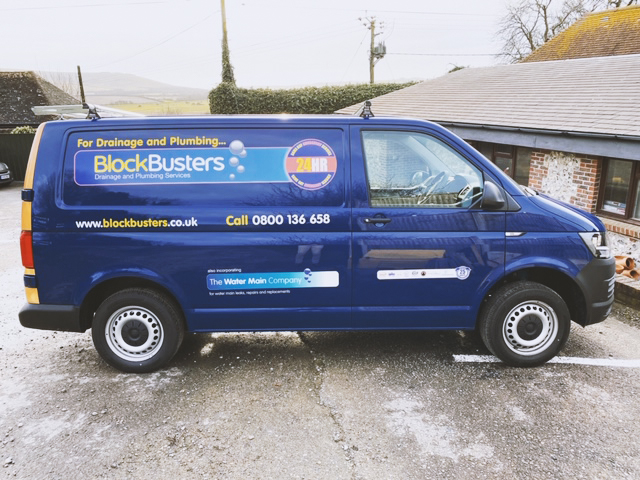 In terms of legal accountability, the operator of the system is responsible for private drainage installations like septic tanks. This means the owner of the property or properties that are serviced by a septic tank will be responsible for getting it cleaned, repaired, and eventually replaced.
According to the UK government, you are considered an operator of a septic tank if:
You own the property that uses the system
You own a property that shares a septic tank system with other properties (in these cases each property owner is equally responsible)
You have a written agreement with the property owner that states you are responsible for the septic tank system
If you are unsure of any of your responsibilities regarding a septic tank on your property in Croydon, the Environment Agency will be able to provide further answers. Contact them as soon as possible if you have one already, or are planning on having one installed.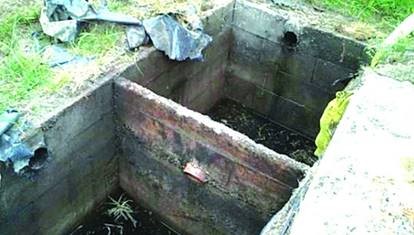 The Benefits of Installing a Septic Tank in Croydon
If your property is not connected to the main sewer line and you are not in a position to have a domestic sewage treatment plant installed, then your next best option is to have a septic tank installed. There are a number of benefits to doing this in Croydon:
Your property tax will be reduced, as you will no longer be connected to a municipal sewer system
Septic tanks are the second-most environmentally friendly private drainage system
Septic tank installations carried out by BlockBusters have a general lifespan of around 40 years, so you won't have to worry about replacing them for a long time
How Will Your Septic Tank Work?
Septic tanks are designed to "digest" organic matter, using bacteria to naturally break down harmful substances and separate solid waste from the wastewater that's collected from a property.
In the tank, oils and grease in the wastewater will float above the rest of the collected material and be collected behind effluent filters to stop it from moving through the system. The rest of the solid material will settle at the bottom of the tank as it's broken down by the bacteria, forming a layer commonly called "sludge". The rest of the liquid waste, meanwhile, will be able to flow more easily through the tank and out into a drainage field.
The water that leaves the tank is far cleaner than the water that entered, meaning there is less harm caused to the environment by its release. Meanwhile, the harmful substances in the solid sludge left behind will need to be removed as part of cleaning and maintenance.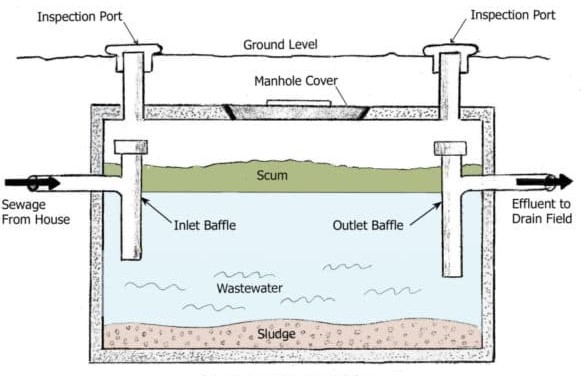 Book an Installation with BlockBusters
If you are in need of a new septic tank for your property, or know that your current tank is in need of expert maintenance, cleaning, or care, contact BlockBusters. We guarantee that we have the tools and skills necessary to ensure your new tank is installed exactly as it should be, and our dedicated team will do everything possible to keep it flowing and in the best possible condition – with minimal disruption to your property.
We are a reliable, fully accredited company and we have decades of experience in providing our services. If you would like to know more about these before having them carried out for your property, please don't hesitate to get in touch with our team; we'll be glad to talk to you about the installation and maintenance of your tank, our other services, and our competitive prices.
Call us today and book a septic tank installation in Croydon that's fast, efficient, and as hassle-free as it can possibly be.
Contact the team