For blocked drains in Crawley, come to Blockbusters.
Professional and Affordable Drain Unblocking in Crawley
If you're in need of fast, efficient, and fully effective drain unblocking in Crawley, you won't find better than our services here at BlockBusters. Our engineers can be with you at any time you need, 24 hours a day, 7 days a week, to offer cleaning and clearance that will keep your drains flowing just as you need.
With over 30 years of experience at what we do and the most essential equipment for carrying out any unblocking work, you're guaranteed a service that will return your property to normal in a short amount of time. No matter if it's a blocked sink or shower, a toilet, or something else entirely, we'll be there with the solution to get it sorted.
With our unblocking services, you can expect:
Affordable pricing and free advice and quotes
No call-out charges
Fault finding services through CCTV drain surveys
Round-the-clock drain cleaning and clearance
A range of solutions to see your drains unblocked
Safe Contractor services
We aim for most problems we're called to fix to be taken care of in a single day, so you may rest assured that your pipes will be flowing as they should soon when you choose our service. Whether it'll only take a simple clean to take care of your blocked drain, or even if it will need a more powerful drain jetting to make sure the pipe is fully cleared, we'll do what your property needs.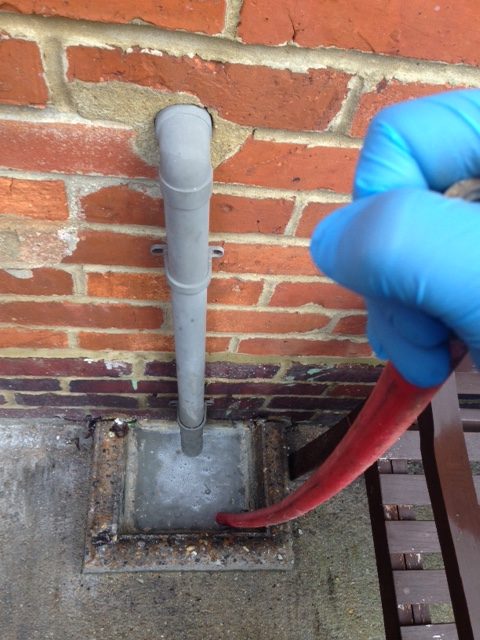 Did you know…..
We assist some of the schools in Crawley when they have blocked drains and need an emergency response.
Our engineers journeys around the A23 and M23 equate to well over 200,000 miles per year.
Blockbusters engineers do on average 20 laps of the Pease Pottage roundabout per day as they head to jobs in the Crawley area.
The main runway at Gatwick Airport is 3,316 meters long, we on average re-line around 50 meters of broken drains per day so would take us around 66 days to line a drain of the same length.
We are available 24 hours a day, 7 days a week covering all RH10 postcodes and all surrounding areas of Crawley, including Three Bridges, Maidenbower, West green, Copthorne, Horley, Redhill, Reigate, Dorking, Horsham, Haywards Heath and East Grinstead to name but a few.
So if you have a drainage or plumbing problem give us a call on 0800 136 658
Our Other Services in Crawley
We don't just provide professional drain unblocking in Crawley. We've got a range of services available for any sort of issue you might currently be having with your pipes. These include:
Drain repair
Routine maintenance (especially for commercial properties)
Kitchen sink fittings and repairs
Shower fittings and repairs
Drain insurance mediation
House surveys
Blocked or Burst Water Mains in Crawley
Sometimes, you may find that the problem with your plumbing and drainage is actually an issue involving a blocked or burst water main. When this happens, you will not have to worry about calling out a private professional service to make sure the problem is fixed. As water mains are located outside of your property boundary, they are not legally or financially your responsibility.
Instead, when you have a blocked or burst water main somewhere around your property, you'll need to get in touch with your local water authority. They'll send someone from their team to take a look and to conduct any cleaning, clearance work, or repairs as necessary at no cost to you.
Contact Us for Expert Drain Unblocking in Crawley
If you've currently got a blocked drain in Crawley, or know there's a problem with your pipes but can't see what the cause is, get in touch with our engineers today. We're confident that we'll have the knowledge, skills, and equipment necessary to take care of any issue your property is currently experiencing.
Please don't wait to see if the problem will clear itself; the chances are the longer you leave it, the worse it will become. We can take care of it right away and see your pipes clean and restored at a time that suits you.
FAQs
Why does my drain keep getting blocked?
The main cause for a drain that keeps getting blocked is usually that the original blockage was not properly cleared the first time. Often when a drain is blocked or draining slowly people will try DIY solutions such as chemicals or a plunger. As soon as water begins to flow again this is considered a success – but the problem is that the chemicals or plunger have only removed part of the blockage. What's not removed remains stuck to the sides of the pipe, and the next time anything other than water goes down the drain, it gets stuck to the remains of this blockage. Before you know it, your drain is blocked again.
If the blockage is cleared completely the first time, it is much less likely to return. Luckily BlockBusters are experts in drain unblocking within the Crawley area. With years of experience, we can be with you quickly to resolve all of your drainage issues.
How can I get my drains unblocked?
The best way to get your drains unblocked properly is to call in the experts. We have been helping our customers with blocked drains in Crawley for over 30 years now. A blocked drain can be a real nightmare, producing unpleasant smells as well as backed up water and even flooding. We know how inconvenient it can be to have to deal with blocked drains, and drain clearance is not something most homeowners want to undertake themselves. BlockBusters emergency plumbers are always on hand to help out with a speedy, reliable service.
All of our engineers are highly trained and skilled, with regular updates to their training. We bring our years of experience to each job, ensuring we resolve every problem quickly and efficiently.
Who is responsible for blocked drains?
All of the drains within the boundary of your property are your responsibility to maintain. This includes dealing with blockages but also any leaks. This can seem daunting since most people don't think about the drains in and around their home until there is a problem and they need help. With all of those pipes it can be hard to figure out where a blockage is, never mind how to clear it! The good news is that BlockBusters are always here to help. We can carry out a full CCTV drain survey which will allow us to locate and diagnose any problems including blockages, leaks and even cracks that have not yet become a major cause for concern.
Every engineer arrives experienced, friendly and professional. Our experts carry out each job using the most advanced equipment of any Sussex plumbers to rectify even the most stubborn problem. BlockBusters Drainage and Plumbing Services manage both domestic and commercial properties. Whether you have leaking pipes in your showroom or a blocked drains in your bathroom, we're here to help. BlockBusters provide expert drainage and plumbing solutions that are suitable on any scale. We manage all our drainage engineer call-outs by project managing all jobs from our Sussex headquarters.
Contact the team