For blocked drains in Arundel, come to Blockbusters.
Blocked Drain in Arundel? Affordable & Effective Solutions
A blocked drain can seriously hinder and cause disruption to your everyday life. Going for a shower and it turns into a bath? Your toilet won't flush away fast enough? Does your sink keep backing up? Here at Blockbusters, we've seen it all and dealt with every possible problem that can afflict drainage systems; this means we have the best in class solutions to getting your local drain problems fixed quickly and effectively.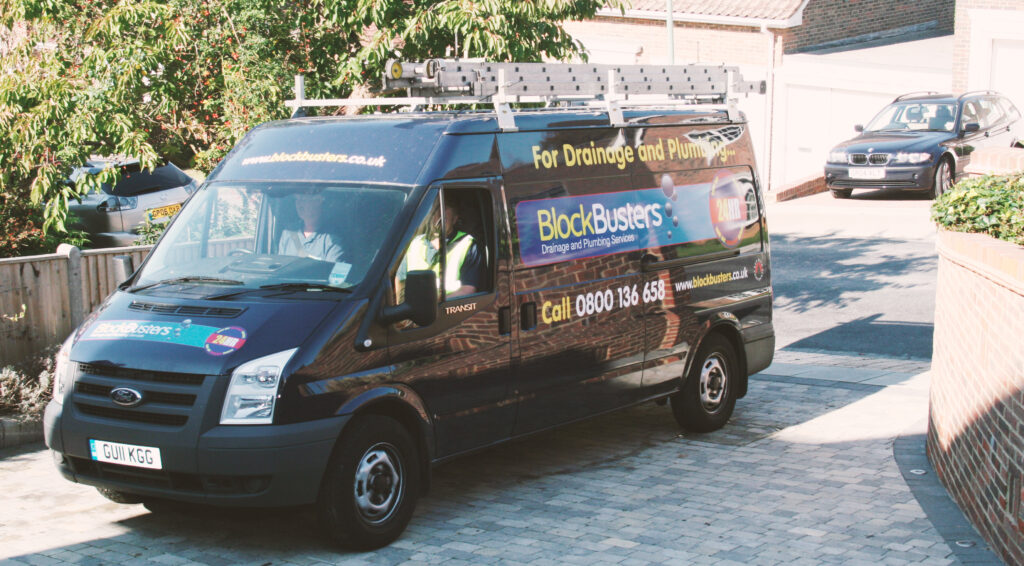 Not only do our drainage experts have over 30 years of experience providing Arundel and South Downs drain services, but we are also fully trained with the use of specialist equipment that remedies drainage problems, and are able to provide a quality emergency service in Arundel and the surrounding areas in West Sussex that is available 24 hours a day, 7 days a week. When you choose Blockbusters to clear your blocked drain in Arundel, you can expect:
A highly knowledgeable team with over 30 years of industry experience.
Emergency support is available all day, every day.
You won't have to pay for callouts.
We always arrive on the scene fully equipped to deal with stubborn blockages or drain repairs.
If you ever experience a severely blocked drain in Arundel, even in the middle of the night, we can arrive on the scene within an hour of your initial call to relieve a severely blocked toilet, undertake CCTV drain surveys and drain jetting, or simply complete drain repairs in the Arundel area.
For a minimally invasive solution to your drainage problems, get in touch with Blockbusters today.
What Causes a Blocked Drain in Arundel?
Although no blockages are a match for the experts at Blockbusters, it is good to get an idea of how blockages can occur in the first place in order to prevent them from appearing again.
The most common cause for drain blockages is the inappropriate use of drains by forcing objects that can't dissolve or are too big, into the drainage system. This includes things like:
Cotton buds
Cleaning wipes
Excessive toilet paper
Fats, oils, and grease (FOG) waste
Coffee grinds
And more
The items above can combine into a solid mass, creating a severe blockage that can't be removed or destroyed by conventional drain cleaning methods. In these instances, Blockbusters can undertake the task of high-pressure water jetting to completely blast the blockage into smaller bits which will then flow into the sewage system and allow your drains to flow freely again. However, sometimes even after a drain jetting, the problems can persist or new ones can arise – this will require the need for more stringent methods.
In the event there are more severe drain problems that are creating a blockage, we will utilise high tech methods, such as CCTV drain surveys, to discover the root cause of the blockage and plan a solution from there. More severe drain problems that we could find might be:
Tree root ingress
Cracked or broken drain pipes
Disjointed pipes
And more
After we have diagnosed the situation and put a plan in place, we will conduct the required drain repairs and ensure that you won't be affected by any malfunctioning or blocked drains in Arundel in the foreseeable future.
Are you suffering from a blocked drain in Arundel? Blockbusters are the number one choice for drain repairs in Arundel to get your drains back to their best working order, even in the middle of the night. Get in touch with Blockbusters today.
Services Available for Blocked Drains in Arundel
No matter what your drain blockage or drain problems are caused by, Blockbusters have a wide range of services available to remedy your drains from their current problems. Our drainage experts have over 30 years of experience in providing the best possible services to get you back on your feet after a drainage disaster. Some services that we're able to provide include:
CCTV drain surveys
High-pressure drain jetting
Drain relining
Drain repairs
Full-scale drain replacement and excavation
Septic tank repairs, replacements, cleaning, and maintenance
Tree root removal
Contact Blockbusters to Repair Blocked Drains in Arundel Today
Having a blocked drain in Arundel can lead to no end of inconveniences and disruptions to your daily life. Here at Blockbusters, we understand that you'll want these problems fixed quickly, efficiently, and affordably – which is exactly what we can do. We are able to visit your property at any time of the day or night as we offer quality emergency repair services 24 hours a day, 7 days a week. So we've got your back, even in the middle of the night.
Don't wait around for the problem to get worse, get in touch with Blockbusters today.
Contact the team
Almost 100%
of estimates
are accurate
Established
for over
30 years
Contact the team
We don't often think about the drains in and around our homes until they become blocked and we need drain clearance services. Unfortunately, when we do have blocked drains the first time we think about our drains is in a potential emergency situation, with waste water backing up into our home or garden. Luckily we have a team of emergency plumbers on standby and ready to help.
We know that plumbing and drainage issues always happen at the most inconvenient time – mainly because there is no convenient time to have blocked drains! Our emergency 24-hour callout is only ever a phone call away and our local team of emergency plumbers will be on hand quickly to help with drain clearance and drain repairs.
We provide free, no obligation quotes for work, and pride ourselves on our estimates being correct in 99% of cases. We won't sting you with hidden charges and will always be transparent and honest in our work and charging structure.
For blocked drains in Arundel, call Blockbusters today on 0800 068 9282