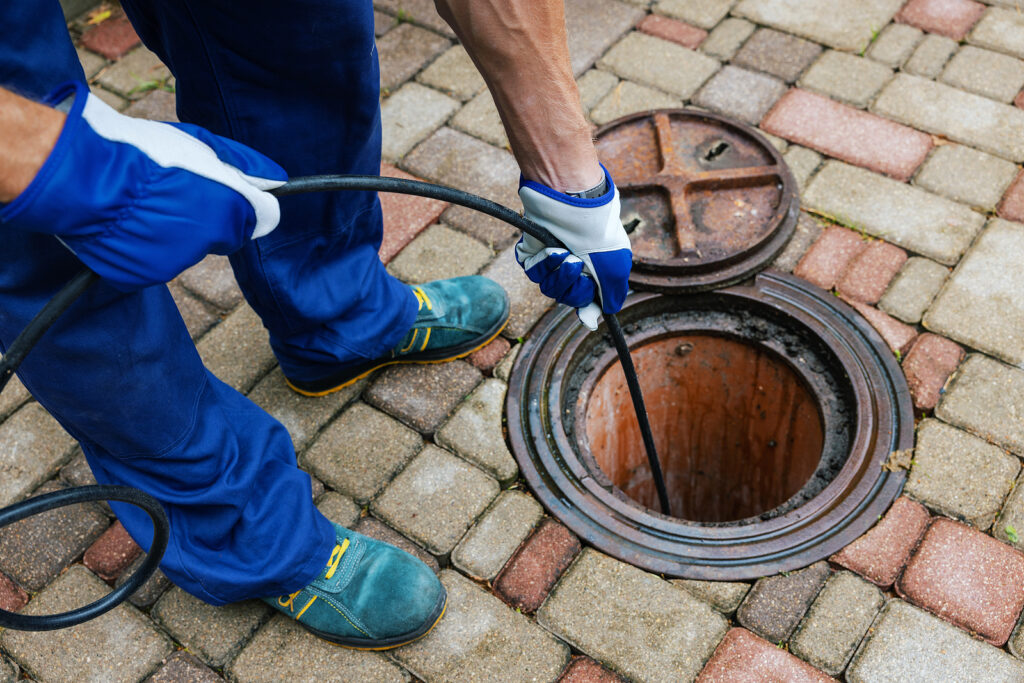 Here at BlockBusters we offer a wide range of emergency plumbing services to both residential and commercial properties across the UK. Whether you have a burst pipe or issues with hot water supply, our local plumbers will be happy to help you with all necessary repairs and maintenance to both external and internal plumbing, 24/7.
Our Wide Range of Emergency Plumbing Services
The selection of emergency plumbing services we have on offer, from leak repair to drain unclogging, is vast. In this article, we will lay out each of our core services in detail and how they can benefit you.
Commercial Drainage Services
When tackling plumbing and drainage issues for businesses, we understand we are supporting not only the company but also its staff and customers. This is why we have tailored strategies in place to support the needs of commercial properties, prioritising speed and efficiency, allowing you to keep your attention where it matters.
Find out more about our commercial drainage services.
CCTV Drain Survey
Most problems with drainage systems occur below ground, making them difficult to diagnose and solve efficiently. CCTV drain surveys are a brilliant alternative to digging up the groundwork, which can be costly and inconvenient. Using winches and cables, we are able to lower our CCTV equipment into your pipework, and from there we will be able to pinpoint the exact issue and offer you our recommended solution. And the best part? Our CCTV surveys are free. 
Find out more about our CCTV drain surveys.
Drain Installation
Wading through an oversaturated market and then wrapping your head around installation services and costs can be difficult. At BlockBusters, we can advise you on the best drainage solutions for your property and then cover the installation and maintenance for you. Juggling multiple suppliers is stressful, but with us, keep it all in one place. From purchase to installation, we have you covered.
Find out more about our drain installation services 
Drain Insurance Advice
With the support of Drain Check Ltd., we can provide free claims handling to all our customers. Take away the tiresome back and forth to insurers and let us handle everything for you. Our insurance specialists have years of experience and have saved our customers thousands of pounds with their meticulous work and trusted advice. 
Find out more about our drain insurance advice
Drain Lining
Using specially formulated resins, we are able to coat pipework from the inside, providing long-lasting protection to the whole drainage system. Installing drain lining can also prevent costly repairs in the future – small cracks and damage to pipework ordinarily call for repair or replacement, but with drain lining, depending on the severity of the problem, pipes can be left alone or fixed with spit patches. Overall, a less invasive and less costly solution in the long run.
Find out more about our drain lining services
Drain Maintenance Servicing Contractors
Proper and regular drain maintenance is vital to any property, domestic or commercial. Drainage systems are everywhere, and most go without notice until something goes wrong. Issues can be costly to your wallet and your sanity, but with our drain maintenance servicing, we can make sure your pipework and drainage are working as they should be, and solve problems before they arise.
Find out more about our drain maintenance servicing contractors
24-Hour Emergency Plumbing
Damaged plumbing and drainage can be disastrous if they are not solved quickly. Especially when wastewater is involved. At BlockBusters, we offer 24-hour emergency plumbing, 7 days a week, all year round. Speed and efficiency are not reserved for emergencies. No matter how severe the problem is, you can rely on us to be there when you need us.
Find out more about our 24-hour emergency plumbing.
Irrigation Systems
Though we specialise in drainage, we can also advise on efficient irrigation systems. Large-scale set-ups are often reserved for agricultural purposes, but we have plenty of customers with large outdoor areas they want to maintain. With our help, certain wastewater channels can be redirected and repurposed for irrigation purposes. Perfect for reducing water wastage and making your home eco-friendly, whilst keeping your water bill low.
Find out more about our irrigation system support.
Septic Tank Repair, Replacement & Advice
Does your septic tank comply with Environmental Agency law? If not, you could be facing fines of up to £150,000. There are several factors that contribute to a fully regulated septic tank, including no damage or foul water leaks, proper registration, adequate distance from hard-standing areas, etc. We are able to help you make sense of all the jargon and make sure your septic tank is up to industry standards. Book an inspection with us and we can get to work finding solutions.
Find out more about our septic tank support.
Saniflo Toilet Repairs and Servicing
Saniflo toilets are often called 'up flush' toilets, as they work by pumping waste upwards as opposed to conventional toilets that do the opposite. Saniflo toilets are ideal for extensions or if you would like an extra toilet slotted into an unconventional area, like under the stairs. At BlockBusters, our engineers are fully trained to provide repairs, replacements, and servicing on all Saniflo toilets – at the best possible price.
Find out more about our Saniflo toilet support.
Sewer Cleaning
Sewer systems are designed to work and go unnoticed, but they still require regular attention. Keeping sewage lines clean is vital to maintaining steady flow and preventing future blockages. From small systems to larger more complex set-ups, our engineers are experienced and knowledgeable at assessing problems and tackling them. We offer cleaning services every 6 months, utilising jet washes and vacuum pumping to keep pipes clear and clean and prevent long-term build-up and damage. 
Find out more about our sewer cleaning services.
Sewer Repair
Sewage systems are under constant pressure, so even with careful maintenance, damage can occur after long-term use. Unlike some other plumbing issues, sewage poses a threat to your health when not dealt with correctly. So, when something does, unfortunately, go wrong with a sewage system, we are on standby to analyse the situation and provide a tailored solution before things get any worse. 
Find out more about our sewer repair services.
Water Leak Detection and Leaking Pipe Repair
Large leaks can cause lasting water damage very quickly and small leaks can go unnoticed until the damage and damp rot they cause becomes difficult to remedy. Our experts are trained to detect the source of a leak and repair it in a timely manner – oftentimes without any need to dig up groundwork or replace whole sections of pipework. 
Find out more about our leak detection services
Water Main Repairs
A faulty water main will bring any property, residential or commercial, to a total standstill. Whether there is a small leak or a burst pipe, we treat all water main issues as emergencies. Not only can our expert engineers fix the problem and provide long-term care to your mains system, but our team can also help you to claim back any damages caused by the issue.
Find out more about our water main repairs.
Soakaways Cleaning
Soakaways are holes filled with rubble that work like gabions, their purpose is to slow the flow of run-off water and gradually feed it back into the ground. Naturally, these holes can, over time, become clogged with excess debris and leaves, which plug the hole and cause flooding. Using high-pressure water jets, we are able to clear most blockages in no time at all. However, some soakaways can become so clogged that they may never work the same way again. But no need to worry – in this case, we can excavate a new soakaway for you or find a way to re-excavate the existing one.
Find out more about our soakaways cleaning services.
Blocked Drains
When drains become blocked, problems can escalate quite quickly. It may be tempting to turn to DIY fixes, but these can only act as temporary solutions, especially for more serious blockages. Without professional help, blockages are only ever partly cleared, leaving excess debris around hard-to-reach corners in the pipework – meaning, over time, more debris will catch the excess and another blockage will build up. At BlockBusters, we have decades of experience unclogging drains. It's in our name for a reason. By harnessing CCTV equipment to locate the source of a clog and then high-pressure water jets to remove it, we can keep drains healthy and prevent future build-ups.
Find out more about our blocked drain support.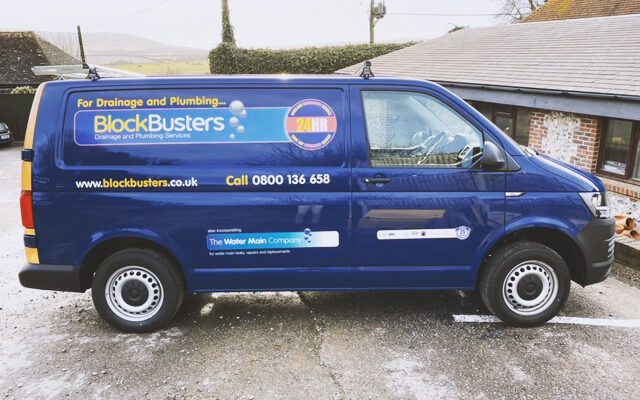 Find Out More About Our Emergency Plumbing Services
With so many services on offer, it is no wonder that we're the UK's favourite emergency plumbers. Our high standard of service, free site visits, and no-obligation quotes are unbeatable. Plumbing support for bathrooms, central heating and boiler support, and drain unclogging – no problem is too great and no query too small. Get in touch today to find out more about how we can help you.
Contact the team