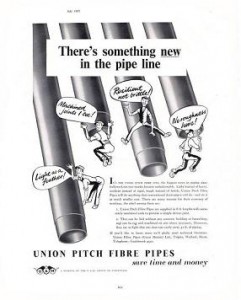 What are pitch fibre drains?
Pitch fibre drains systems were installed between the late 1950s and early 1970s. At the time they were considered to be a great new invention because instead of having to use heavy clay drain pipes, these were lightweight bitumen pipes that could be installed quickly and easily, requiring less work. Unfortunately these clever new pipes did not stand the test of time. Over a period they can become delaminated and begin to collapse.
There are thousands of miles of pitch fibre drains across the UK. When it was realised there were problems, people switched to using plastic drainage pipes.
What to do if you have pitch fibre pipes
The problem with pitch fibre drainage pipes is that they were usually made with asbestos – so removing them can be problematic. While they are still in situ though, they are perfectly safe to stay that way. For this reason most people prefer to leave pitch fibre drainage pipes where they are, and to reline or repair damaged pipes wherever possible.
Many buildings insurance policies will cover repairs and renewals of pitch fibre drainage pipework.
For free advice on drain insurance and drain repairs, get in touch with BlockBusters today.
Call us on 0800 0689 282
Contact the team