As we all know, buying or selling your home is particularly stressful at the best of times, especially if there is unknown problems that may only come to the surface during the negotiation stages or the surveying of a prospective property for purchase or sale.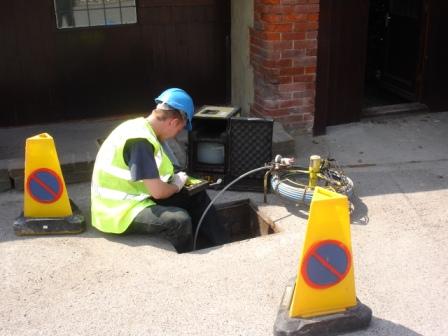 Due to the fact that your drainage system is one of your home's fundamental services that you are unable to inspect – it is strongly advised that you carry out a relatively inexpensive home drainage survey to make sure you will not experience any nasty surprises when moving into your new home.
Despite the suspension of  HIP's and their inevitable scrapping due to be confirmed by the new government, there has been a continued up surge in the amount of 'home buyer' instigated drain survey enquiries.  HIPs  did not  have any drainage specific stipulations  however a large number of building surveyors now suggest that home buyers should carry out CCTV Drain Surveys on prospective purchases to find out if there is any fundamental problems that could cause a financial liablility.
Estate Agents & Solicitors are also keen to promote CCTV Drain Surveys to be completed on a pro-active basis to prevent irritating hold ups.  Some purchasers also see drain surveys as a good route to improve their negotiations on a property should there be any kind of remedial works required.  To counter this many sellers are even instructing surveys on homes they are about to vacate to try to reduce the potential for negotiation and make their homes more attractive by sorting any minor works etc.
A number of Mortgage Companies have also started to request the completion of a CCTV Drain Survey as part of their basic underwriting criteria.
Blockbusters can quickly help your property sale/purchase through a potential drainage headache
As well as carrying out your home buyers drain survey quickly and efficiently to prevent any hold ups, Blockbusters will assist by providing customers with free advice and can refer them to a free insurance mediation service for all aspects of drainage claims carried out by Drain Check Ltd.
Drainage Disputes Resolved by Blockbusters
Our free claims management service can be particularly useful as it can be administered to transfer the right of claim to the prospective home purchaser should a claim be made through the home sellers existing home insurance.
There can also be drainage disputes involving a number of neighbours who share drain runs within a Street or Close of residential properties.  Some residents may be happy to look at making claims through their buildings insurance but it can sometimes become complicated when there are a number of properties affected.
Whatever the Drainage Problem – Blockbusters can provide advice and help to resolve issues quicly & efficiently.
Call us now for some free advice: 0800 0689282
Or visit blockbusters.co.uk
Contact the team