Blockbusters Contracts Ltd crews, under the guidance of Tim Hayes and Kevin Began, recently undertook a major drainage repair job on the promenade in Hastings, East Sussex. The project on the Warrior Square public toilets required a large excavation in the main A259, which is the main ingress and egress route in to and out of Hastings.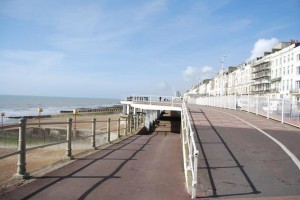 Operated by Hastings Environmental Services department, the Warrior Square toilets suffered a collapse in the drainage system taking waste effluent away from the site. This led to back up in the system which caused sewage from the toilets to spill out onto the promenade and ultimately onto the nearby sea front and beach. This would normally mean a simple repair to fix the collapse and bring the public toilet back on line. However, the major drawback for this site was that the sewage pipe in question lay at a depth of some 5.5 m below the carriage way of the main A259.
On investigating the situation a local contractor deemed that the situation was one that it was not qualified to handle and that a contractor qualified to work in the roadway of such a major traffic route would be needed. This was where Blockbusters Contracts Ltd came in. Blockbusters holds all the correct accreditations for working in the public highway and was therefore able to undertake such works.
The works commenced on 17 June 2013 and were completed with the public toilets back in use by 2 July 2013. Blockbusters was under instruction to complete the operation using a 12 hour day shift pattern, so a split shift system was put in place to ensure the works were completed in the time frame allowed.
Mel Weir, Hastings Environmental Services Project Officer, said of the project: Although we were all under a fair amount of pressure during the works everything was kept to programme and the outcome will make this site easier to maintain in the future. Of course the works did cause quite a delay for motorists along the A259 which was unfortunately unavoidable. Local businesses in the area were in touch with me throughout the work programme, and although there were some disruptions to trade in the area, everyone understood the necessity of keeping this busy shoreline public toilet in use. Thanks to Blockbusters crews all the works have been completed in time for the busy St Leonards Festival on 13 July."
Contact the team