Due to the recent continuous rain water down pours we have had, there has been an excessive amount of ground water laying in peoples gardens and surrounding areas. Unfortunately the ground is completely saturated and as such it is unable to soak up this rain water as fast as it is being delivered. A lot of property owners have complained of ponds and mini lakes appearing in their back and front gardens or that their rain water Soakaway systems are not working any longer.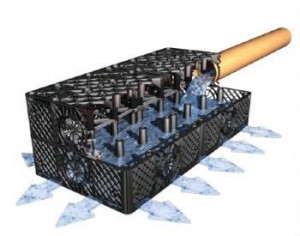 On some occasions we can unblock the rain water soakaway systems by pulling all the silt back out of the system, using high pressure water jetting so it is clean running and this has worked well when there is an adequate soakaway in place. These particular soakaways can be replaced as some of them do come to the end of their life span. This involves excavating out and clearing out the soakaway itself and it is standard practice now to install the 'aquacell' or similar product soakaway system where you end up with a plastic cage cell system in place so all the rainwater disperses into this area and then has time to filtrate into surrounding ground work. These are quick and easy to install as opposed to the old fashioned way of installing soaksways which involved excavating an area of ground and then backfilling with hardcore. These systems are also installed in people's gardens to take the excessive amount of pooling water whether that is on grass lawns or driveways. If it is installed on a driveway then an additional gully would also be installed.
Blockbusters Contracts Ltd supply and install Aquacell soakaway systems (or the traditional style hardcore soakaway systems, dependent of the customer's requirements). We also carry out high pressure water jetting through rainwater soakaway systems and put them back into functional order and carry out CCTV drain surveys to establish the condition of the drain or where it runs through to. Please call 0800 1366658 for a free site visit with advise or a free quotation.
Contact the team