You might think plumbers are just here to deal with the problem of blocked drains once it has occurred, but we are here to help you even before you have a problem. Blockbusters recommend getting your drains checked annually as an important part of your home maintenance. We believe it is just as vital as getting your boiler checked, in keeping your house running the way it should.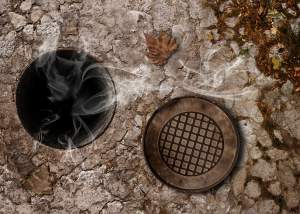 The drainage system in your home has a big job to do and we often only think about it once it has gone wrong. Most problems can be prevented with a drain inspection carried out by our experienced team. These are the five main reasons why we believe you should be getting your drains checked as soon as possible;
1 Fight Bacteria
This might not be the first thing that comes to your mind, but bacteria in your drains is a serious issue. The large amount of waste that makes its way down our drains means that they are a breeding ground for nasty bacteria. Getting your drains checked and cleaned can help eradicate harmful bacteria and minimise the risk of potential illness for you and your family.
2 Avoid Nasty Odours
Unpleasant odours from your drains can permeate into your home making it unbearable to live in. A strong odour is a clear indicator that your drains need checking. A build up of food, leaves, hair and other materials over time, not only causes blocked drains but the decomposition of these materials will cause a terrible stench.
3 Save Money
We all want to save money and getting your drains checked and potentially cleaned, at this time of year, can help you save money in the future. It is far cheaper if you can discover potential problems early rather than waiting until you have a blocked drain requiring hours of labour, or having to have pipes replaced due to tree roots causing cracking.
4 Heavy Rain
Heavy rain is a constant problem, especially here in Brighton where it is generally combined with strong winds. This extreme weather can cause leaves, garden material and litter, to be forced into drains and pipes. This is a major cause for blocked drains so getting your drains checked regularly can help to eradicate this problem.  
5 Prevent a Potential Disaster
Blockbusters can come and inspect your drains and pipework, to ensure your drainage system is working efficiently. Our experienced team know just what to look for to prevent you having major drainage problems. We look for cracked pipes, blocked or overflowing drains, litter build up and root damage. If your drain is blocked or has a foul odour, it means that there has been a build up over time which could have been avoided. This is why it is so beneficial to get your drains checked.
Contact Blockbuster for free on 0800 0689282, 24 hours a day, to book your drain inspection and prevent a blocked drain ruining your day.
Contact the team